The art of avoiding cracks when welding alloys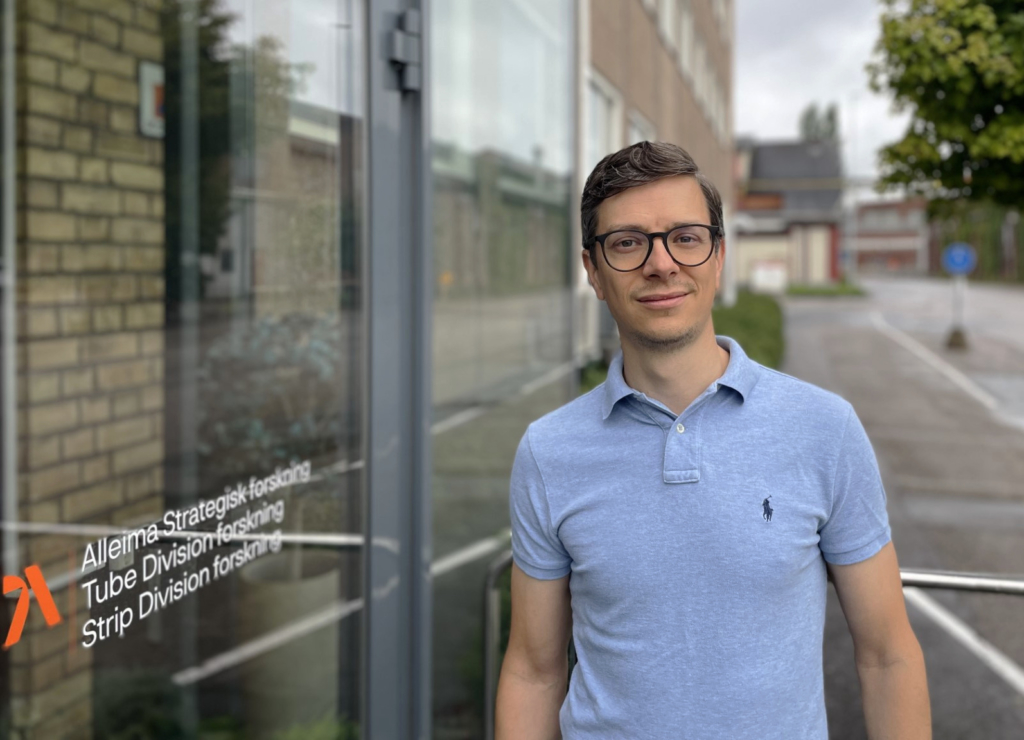 When welding different alloys together, there is a risk that cracks and other defects will form. Mikael Johansson is an industrial doctoral student at Alleima, and is currently developing new knowledge to enable alloys to be designed with the right welding properties. "I focus on alloys that can withstand high temperatures for applications such as power plant boilers," says Mikael, who is part of the Smart Industry Sweden industrial graduate school.
Researching welding metallurgy has been Mikael's goal ever since he joined Alleima (formerly Sandvik Materials Technology) in 2014.
"I wanted to deepen my knowledge within this field, and was given the opportunity to carry out postgraduate studies in parallel with my work at the company's R&D department," he explains.
Alleima develops and manufactures stainless steels and special alloys. These materials are designed for specific applications. For example, if an alloy will be used in components for a power plant, it must be able to withstand conditions such as high temperatures and high pressure. Another important factor is that the alloy must have the right welding properties.
Studying weak links
"When welding a high-temperature alloy, hot cracks and stresses can form in the material as it solidifies. These hot cracks can occur in both the weld metal and the material next to the weld metal. My research looks at how this type of weak link occurs so that we can develop alloys with better welding properties."
Mikael's research covers several different alloys and welding processes. He is also investigating how simulation models can be used to assess the weldability of an alloy at an early stage of development.
"The goal is to come up with a systematic approach that combines simulated weldability with physical weldability testing. Every time we develop a new alloy, we learn new things. Identifying the links between different development processes makes our product development easier."
"Contributes to greater knowledge"
Mikael's supervisor at Alleima, welding metallurgy specialist Peter Stenvall, is following his research with great interest:
"Mikael's work is contributing to greater knowledge and understanding of hot cracking in alloys. This knowledge is extremely valuable when designing alloys for different applications. It also enables us to give our customers better information and recommendations when it comes to the most appropriate welding techniques for their high-temperature alloys."
Mikael is conducting his research studies at University West, and is one of 14 industrial doctoral students at the Smart Industry Sweden graduate school.
"One advantage of the graduate school for doctoral students is that we can exchange experiences and be inspired by each other," he adds. "Combining work with research studies can be a challenge, so our regular meetings are particularly valuable.
"My aim is to work as a specialist within this field after defending my doctoral thesis. Research involves variety and challenges, but above all it's rewarding to help customers develop their products."